One hundred speakers will take part in the industry forum, to be held from October 9 to 11 in Cádiz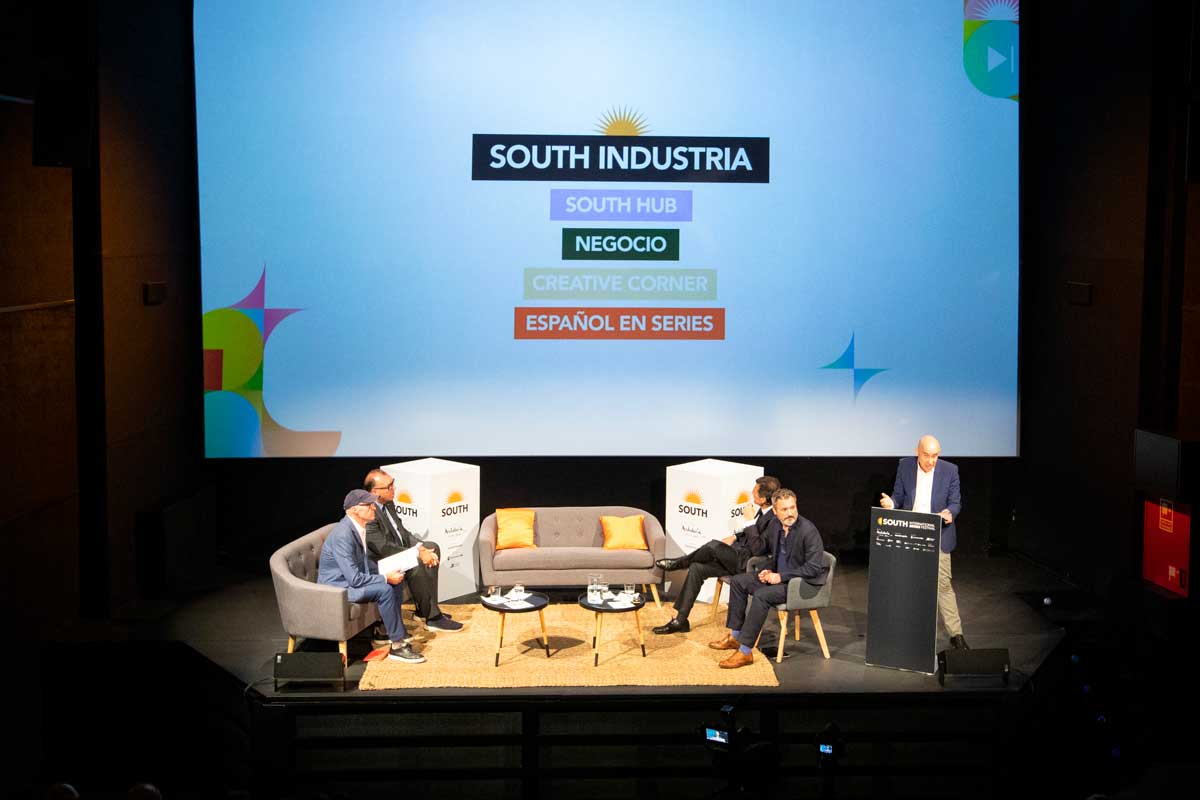 South Series will be a meeting point for professionals from the international audiovisual industry and will bring together in Cadiz, between September 9 and 11, a hundred experts from the sector who will participate in different meetings and round tables. The objective is to turn the capital of Cádiz into an attractive and effective industry forum different from the institutionalism of other markets and festivals. This is what Carles Montiel, Industry Director of the Festival, said in his speech during the presentation of contents that took place today at the Sala Berlanga in Madrid.
For this purpose, different forums have been designed, ranging from business, creative innovation, financing or competitive cooperation among the more than thirty activities proposed in this meeting. Focusing on the United Kingdom, the guest country in this first edition, several experts will shed light on how to produce with this country after Brexit. The African, European and Latin American markets will also be the focus of discussion. Professionals such as Gail Egan, CEO of the Oscar-nominated Potboiler Productions, directors Guillem Morales (Inside Nr1, Templanza) or producer Mark Williams (Ozark), are part of a large delegation of Anglo-Saxon professionals in this edition.
South Series, as mentioned above, also focuses on Africa in this edition and a large representation of industry professionals will arrive in Cadiz to share their business vision. The African delegation will be led by Moses BabadopeNigerian producer and distributor, Mimi Bartelsproduction director of FilmOne Studios, a Nigerian company specializing in distribution and production of audiovisual content, showrunner James Omokwe, director of two of the best-received Nollywood TV series in recent years – Ajoche (2018) and Riona (2020) or. Femi OdugbemiCEO of Zuri 24 Media, an audiovisual content production company with internationally recognized and distributed titles such as Battleground or Brehtren, among others.
Series in Spanish / Spanish in series
In addition to the various activities planned, South Series focuses part of its meetings on analyzing the current state of Spanish-language series in the audiovisual industry. This is the main objective of the international meeting 'Las series en español / El español en las series' in which more than twenty creators, producers and experts will participate and which will bring together leading professionals from the Spanish and Latin American industry in Cadiz. The series addresses this issue from two points of view: the promotion of Spanish and the scope of audiovisual creation, production and distribution. One of its objectives is also to promote greater collaboration between productions and professionals in all countries where the Spanish-language series industry is active, including the United States.
It is an initiative that is offered as a tool to better understand the influence of the series in the expansion of the Spanish language and to set strategies to expand their markets, given the interest that the Spanish-speaking industry awakens for the international industry. Las series en español / El español en las series' is being held for the first time in South Series and seeks to consolidate itself as a public-private platform to add to the success of Spanish-language series with the help of the entire industry in each country and the major platforms. It is designed for professionals working in the audiovisual industry or who want to enter it, and access is free with industry accreditation and for students accredited by the Festival.
All these activities are exclusive to audiovisual industry professionals who have been previously accredited.
Last days for registration of audiovisual industry professionals
The South International Series Festival maintains the registration deadline for audiovisual industry professionals until September 25. Registration for this first edition will be free and will give access to all talks and presentations, premieres and will provide access to the village, a space designed by South to promote networking among participants.
A special registration has also been set up for students, which will give them access to training activities, masterclasses and screenings and premieres of each day's premieres. The student community can apply for accreditation until September 25 on the festival's website.
South International Series Festival is a private initiative sponsored by the Consejería de Turismo, Cultura y Deporte de la Junta de Andalucía, co-financed with European funds, Ayuntamiento de Cádiz, Diputación de Cádiz, and the participation of Mediaset España as main media sponsor. Also collaborating in this first edition are Movistar Plus+, Spain Film Commission, Fundación SGAE, Fundación Bancaria Unicaja and Canal Sur.